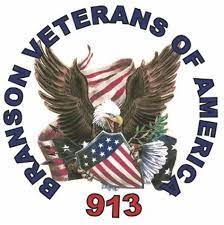 An annual Memorial Day Weekend Event returns to the Lakes Region after having been cancelled last year.
The Branson Veterans of America 913 Memorial Day Ceremony takes place next Monday at 11:00 am at the Ozarks Memorial Park Cemetery.
BVA 913 President Dick Burkhalter talks about the during an interview this week on KRZK's "Ozarks Now" program, including the retiring of the Colors by the Branson High School JrROTC, presentations by Keynote Speaker U.S. Army Retired Major Amy Manning as well as Branson Mayor Larry Milton, State Representative Brian Seitz, Dave Hamner, and C.J. Newson.
The Public is invited to attend the Free Ceremony and is encouraged to bring Lawn Chairs.
More information on the event can be found on the Branson Veterans of America 913 Website as well as from the interview with Dick Burkhalter from Ozarks Now below: