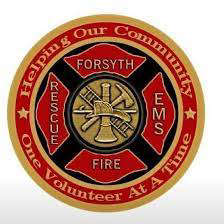 The Forsyth Fire Department is getting equipment to help in water rescues thanks to a grant from an area organization.
AJ Fahr of the Branson Tri-Lakes News has full details in the story below:
Forsyth firefighters will be getting new water rescue training equipment thanks to a grant from the Lake Taneycomo Elks Lodge 2597.
The Elks donated a grant in the amount of $2,000 to the Forsyth Fire Department through the Elks National Foundation.
Forsyth Fire Chief Nathan Bowers asked for the Forsyth Board of Aldermen to approve the purchase of the equipment, using the grant at the Monday, June 20, meeting. He explained how the grant was procured and why he felt it was important for the department to purchase the equipment.
"Last year, the Elks club approached us looking at a grant that they give out yearly and asked if we had a project," Bower said. "Back on Feb. 20, 2021, we did have an ice rescue that we responded to off Parkway just outside Shadow Rock, where we had one life saved and one fatality. Out of that, we've been working on training, working with other agencies because unfortunately, the closest water rescue/ice rescue is at least a 20 to 25 minutes response. In that especially cold water and that type of scenario, you don't have that much time."
Bower said the equipment he was asking for approval to purchase was not at technician level, but would benefit the department.
"These are shoreline based, life safety things that we want to try to increase the work of our firefighters and responders, as well as increase our training for them at this point. "It's kind of the first phase and see if we can get our teeth in to be able to increase that because, you know, the likelihood of that event happening again," Bower said as he knocked on wood. "Hopefully I don't see it again in my lifetime. But we do need to be prepared for it. It was one of the things that even talking with the other chiefs, I mean, it's just one of the things that…it's hard. When your hands are tied and not able to be there. I can personally vouch, I was there. And that's a hard scenario to deal with. So we're thankful that the Elks Lodge reached out and we were awarded a grant for $2,000 from them."
Bower presented the board with three quotes for the equipment.
"You have three quotes in front of you for some water rescue equipment. My recommendation to go with White River Dive Company out of Branson," Bower said. "It was the cheapest one and local, as well. So I think it may be over, but we'll cover it from our general budget.
The Forsyth Board of Aldermen approved the purchase of the water rescue equipment from the White River Dive Company with the grant money and the fire department covering the additional $33 dollars out of their general budget in a unanimous vote at the Monday, June 20, meeting.