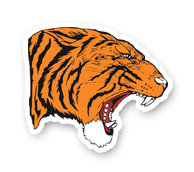 After nearly pulling at a in in Wednesday's loss in the Class 4 Missouri State High School Baseball Tournament, the Hollister Tigers did not have a rally left in them as they fall to St. Joseph Lafayette in the 3rd Place Game in Ozark Thursday.
Like Wednesday's game, the second inning was a bad inning for the Tigers in Thursday's game as their opponents piled up eight runs on their way to the 12-2 five inning win.
The Tigers finished the season with a 25-7 mark.