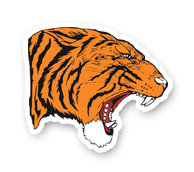 The Hollister Tigers hope to follow the lead of another Southwest Missouri School in claiming a State Baseball Championship.
The Hollister Tigers will play against Blair Oaks tonight at 6:30 at U.S. Bank Field in Ozark in the Class 4 Semi-finals.
The Tigers are 22-5 for the season including a win last month over Marionville, who completed a run to the Class 2 State Championship Tuesday night with an 8-7 win over East Buchanan Tuesday night.
The Tigers 22 wins include two victories over Springfield Catholic, including a come from behind win over the Irish last Friday in the State Quarterfinals.
Hollister's Games in the State Tournament can be heard on Perry Phillips Sports through the link below:
http://www.perryphillipssports.com/