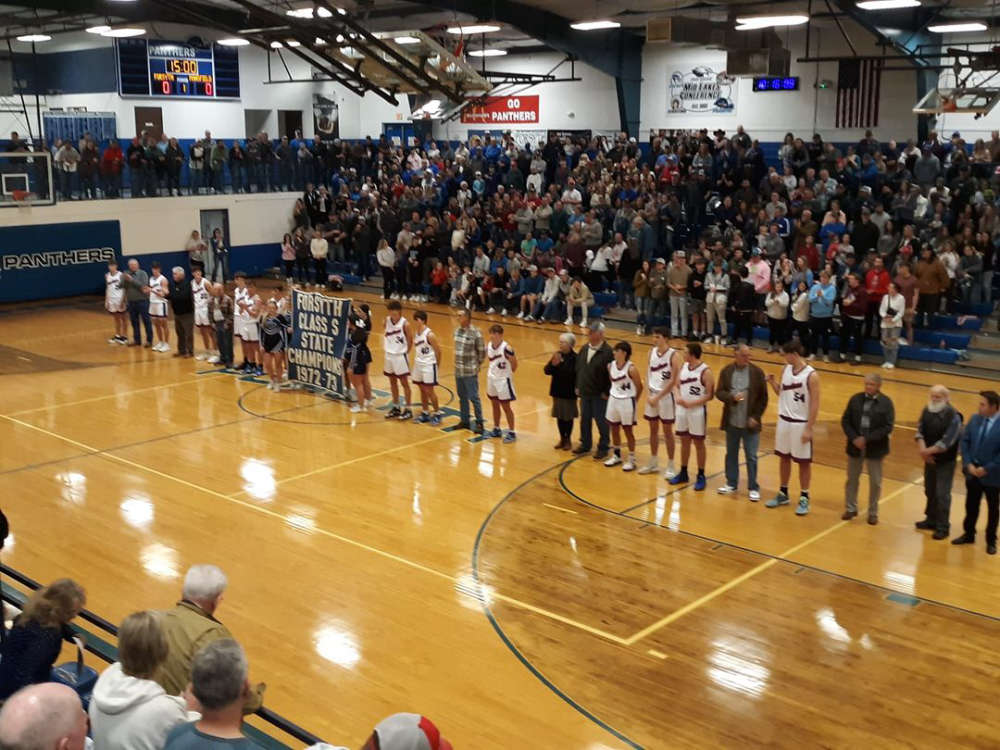 Current Forsyth Players and Coaches pose with members of the 1973 State Championship Forsyth squad that was honored prior to Friday's Game against Mansfield. (Photo by Scott McCaulley)
Two games involving state ranked teams go to the visitors on Friday night.
In Forsyth, on a night the school where the Panthers 1973 State Championship Team was honored,, the Class 4 ninth ranked Panthers hosted the Class 3 second ranked and undefeated Mansfield Lions in a game heard on MOARK Sports Dot Com.. Though the Panthers led most of the game, the Lions cashed in on some missed free throws and turnovers to tie the game late, then saw reserve player Chase Kelly hit his only basket of the game, a three-point shot with under two seconds to go, to keep the Lions undefeated with the 53-50 win. Tom Emrick led Mansfield with 27 points while Ryder Blevins scored 20 to lead Forsyth, who falls to 17-3 with the loss.
Meanwhile in Hollister, the eighth ranked Tigers hosted tenth ranked Rogersville in a match-up of Big Eight and Class 4 District Conference Foes with the Wildcats able to secure the 54-41 win. These two teams plus Forsyth will play in the same Class 4 District at Hollister later this season.
50-42