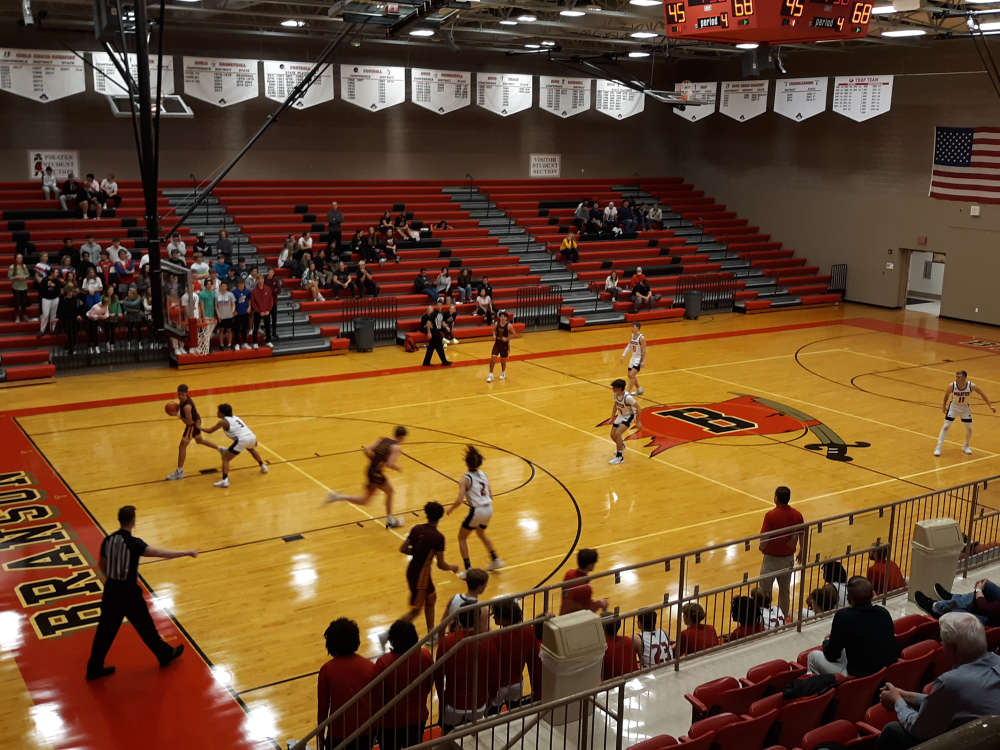 Branson against Lake Hamilton at the Battle at the Boarder Tournament (Photo by Scott McCaulley)
Thursday night saw both Branson and Harrison open in tournament games covered by MOARK Sports.
Branson Splits at Battle at the Boarder
In their annual classic at the Branson Gym, the host teams split their games against Lake Hamilton from Arkansas. The Lady Pirates get a big lead, withstand a second half comeback from the Lady Wolves, and pull away with a 52-32 win. Taylor Foster scored 19 to lead all scorers in the contest. Meanwhile, the visitors spoiled the debut of Pete McBride as the Pirates new Boys Basketball Coach as they earn a 74-47 win. The Pirates were led by Justin Gill who scored 15 points.
The other two games at the classic saw Mountain Home sweep Waynesville, the girls winning 73-32 while the boys rallied for a 48-46 win.
Today, Mountain Home and Lake Hamilton will play at 4:00 and 5:30 and Branson matches-up with Waynesville at 7 and 8:30. The Branson games can be heard at MOARK Sports Dot Com.
Harrison at Willard Tournament
Both Goblin teams fall in the opening round of the tournament with the Lady Goblins losing to Strafford 66-49 and the Goblins falling to Springfield Central 69-64. Both teams play again today, the Lady Goblins at 4:00 against Republic. Because Francis Howell droped out of the tournament due to sickness, the Lady Goblins part of the bracket is Pool Play with today's result determining what time they will finish the tournament on Saturday. Meanwhile the Goblins will play Flippin for the second time this year in a match-up at 5:30. Coverage will take place on MOARK Sports Dot Com and on 94.9 FM.
Forsyth Tournament Finals Set
The Forsyth Tournament Championship match-up is set after victories for both the host Panthers and Hollister Tigers Thursday. The Panthers outlasted Spokane 54-40 while the Tigers took care of Forsyth's JV Team 77-40. The results put both teams in the Championship Game Saturday at 7:00 pm which can be heard on MOARK Sports Dot Com. The other match-ups will be determined by tonight's games which will feature Gainesville and Spokane at 6:00, Carl Junction against the Forsyth JV at 7:30.
UPDATE Blue Eye Girls Tournament Final Night
The Blue Eye Girls Tournament wraps-up tonight with Mansfield and Springfield Glendale playing for the championship at 8:30. Earlier games include consolation games at 4:00 featuring Reeds Spring and Exeter, 5:30 Blue Eye and Spokane with the third place game at 7:00 to feature Forsyth and Berryville.