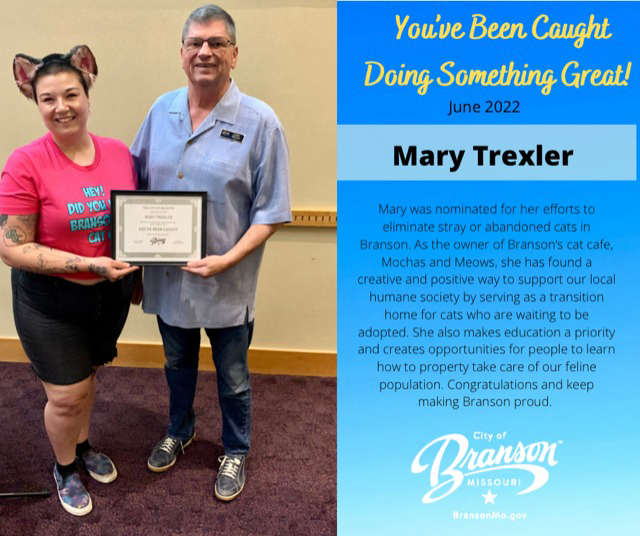 Photo credit to the City of Branson Government Facebook Page
Mary Trexler, owner of Branson's cat cafe Mochas and Meows was honored with an award during Tuesday night's Board of Aldermen meeting.
Branson Mayor Larry Milton presented Trexler with the "You've Been Caught" citizen recognition award for June. "Mary was nominated for her efforts to eliminate stray or abandoned cats in Branson." Milton said Trexler has found a "creative and positive way" to support the local humane society by "serving as a transition home for cats who are waiting to be adopted."
Milton said she also makes education a priority and creates opportunities for people to learn how to properly care for Branson's "feline population." He added that Trexler has a big heart for "community members in need" and that she "uses her business as a safe and therapeutic group meeting space for those who have experienced childhood abuse and trauma."
Trexler thanked everyone in attendance and highlighted one accomplishment. "For those of you who are unfamiliar with Mochas and Meows, we opened about four months before the pandemic hit, and we are honored to have placed 157 cats in their forever homes since we opened," Trexler said.